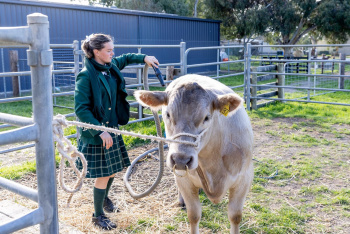 Westminster School have defined a new vision for Sturt Grove Farm that teaches students the importance of sustainable agriculture.
As we upgrade our Farm and Agricultural learning facilities, we are emphasising the indispensability of scientific expertise in all agricultural enterprises. The essence of agriculture is deeply intertwined with science—it's the meticulous science that unravels the reasons behind the yield of a specific crop, the superior micron yield in certain sheep breeds, and the elevated intramuscular fat content in select Angus cattle genetic lines.
With the initiation of a major Ag project, we are architecting a state-of-the-art learning environment, a realm where agricultural sciences are not mere theoretical entities but are tangibly interwoven with our day-to-day agricultural learning and production undertakings. At the moment, even prior to our facility upgrade, we are ensuring our journey in agricultural sciences is multifaceted, exploring various dimensions of agricultural production. For example, we delve into the art of titration of grape juice during Shiraz veraison to scrutinise and refine its quality, ensuring the production of premium wines with impeccable flavour profiles. This precise method permits an accurate analysis of the acid content, a critical aspect in the wine-making process.
| | |
| --- | --- |
| | |
When students look into our lambing program, we have used and are looking to use further microscopy to analyse fat cells in ewes' milk. Such a detailed approach is pivotal and translates straight into the dairy industry showing the link to the enhancement of product quality and facilitating innovations in dairy science and milk production and processing.
We have also utilised industry links such as the Waite Research Centre to speak directly into Stage 2 Crop Trials based around quality and quantity of barley yields. The Infra-red spectroscopy that accompanies this was another example of the tangible intertwining of high end science and agricultural production.
Our explorations extend to the domain of aquaculture. The meticulous examination of water parameters in Barramundi grow-out tanks and the analysis of the transformation rates of ammonia to nitrates are crucial for maintaining ecological balance and realising sustainable aquaculture practices. Such investigations are imperative for ensuring the health and growth of aquatic life.
Our scientific rigor is not only elevating our agricultural standards but is also enabling the students and the community to comprehend the intricate intricacies and subtleties of contemporary agriculture. The seamless fusion of rigorous science and practical execution is shaping our curriculum as it does in industry. Our mission is to nurture a community who can discern the symbiotic relationship between science and agriculture, impacting diverse disciplines and emphasising the pivotal role of science in agricultural evolution and food security.
National Agriculture Day is this week - Friday 17 November. PIEFA has a wide range of teaching resources to engage your students with agricultural science. Check it out here!